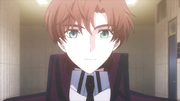 He feels a blatant rivalry with Tatsuya. He feels beaten, not as much in CAD related skills, as in strategy in the AD 2095 Nine Schools Competition. He admits in Volume 5, Chapter Friendship, Trust and the dubious Lolicon that their defeat was a consequence of his obsession with beating Tatsuya in his own turf. His wish to redeem himself manifests in being obsessing over his manuscript for the Thesis Competition of AD 2095 in the hopes of beating Tatsuya.
He also feels a rivalry with Mikihiko. This may be based on losing to him in terms of speed, but more likely originates from being defeated in tactics in the AD 2095 Newcomers' Monolith Code final.
Ad blocker interference detected!
Wikia is a free-to-use site that makes money from advertising. We have a modified experience for viewers using ad blockers

Wikia is not accessible if you've made further modifications. Remove the custom ad blocker rule(s) and the page will load as expected.